Serve the World
The Missions Department of Stevens Creek Church exists to help people take their next step in serving the world through giving, going, and prayer. We will influence future generations in to step in to the mission of God in our "Jerusalem, Judea, and Samaria" (Acts 1:8) to discover God's story and their place in it. Our desire is to help people everywhere realize that they matter to God and they can be an essential part in helping others realize that as well.
Serve Day 2021 is Saturday, August 7th!
We are so excited to offer over 10 different serving opportunities this Serve Day both at the Augusta Dream Center and elsewhere! Join us for all the fun by signing up at the link below.
Serve Day 2021
Also, don't forget about our annual tradition of the Backpack Giveaway. School supplies can get expensive! Help a local family by filling a new backpack with the following supplies so the kids in our community can have a successful school year! Return your packed backpack to either campus of Stevens Creek Church or to the Augusta Dream Center before Sunday, July 25th.
Suggested Supplies:
Box of Crayons – 8 basic colors
Primary Pencils
Scissors (rounded blades)
Pocket Folders
Glue Sticks
Journal Composition Book
Ruler
Supply Box or Pouch
Box of Kleenex Tissues
Hand Sanitizer
3-Ring Binder
Calculator (for older students)
Don't want to shop in person? Donate $20 to sponsor a pre-packed backpack!
Donate a Backpack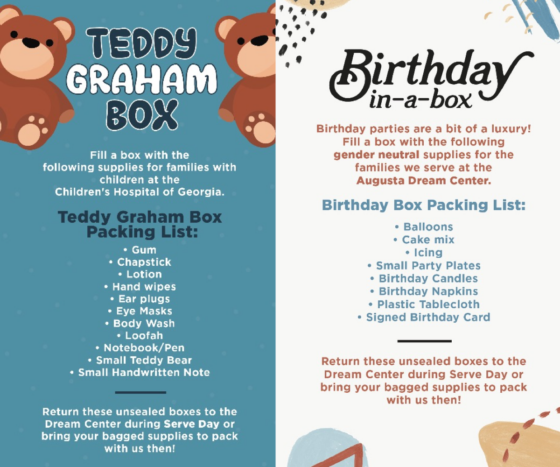 Serving Opportunities:
Augusta Dream Center: Recurring
Kenya: August 2021
North Charleston Dream Center: November 2021
Guatemala: 2022
Thailand: TBD
Columbia: TBD
Europe: TBD
Strategic Partnerships
For more information, click the partner's name.
Christan Barnett
Larry Woods
Jonny Moore
Josh & Jessica Hanson
Aimee Hall
Michael & Sarah Conway
Steve & Suzie Swanson
Susan Swanson
TJ Gillam
Kim Allen
Kelsi Deel